ndiana U Switches Mobile Frameworks, Moves to Kuali
By Dian Schaffhauser
08/30/11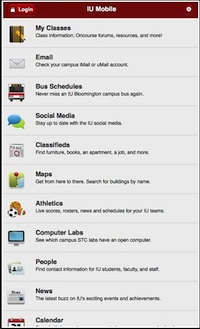 Indiana U mobile app built on the Kuali mobile framework
Following close on the June 2011 launch of a consortium-supported open source platform for campus mobility, Indiana University has replaced the software it uses to deliver information services to mobile devices. Version 2.0 of IU Mobile has been built using Kuali Mobility Enterprise, software created by a consortium of universities and companies.
The new mobile framework used by Indiana U is the product of a Kuali Foundation open source project. Participants also included theUniversity of Cambridge, Cornell, andU Michigan, as well as vendors HTC Global Services and VivanTech.
The Bloomington institution first offered a mobile platform in 2009, built on the open source MIT Mobile Web framework. That initial edition, which catered to mobile Web, included bus schedules, news, events, maps, a people directory, computer labs availability, and a feedback function. The following year Indiana U released a version for Apple's iOS devices, which was followed a few months later by a Google Android release.
The latest edition includes support for "My Classes," a mashup of student data with Sakai's Oncourse, an online collaboration and learning environment. Also, with the new release, each Indiana U campus can tailor its information channels, and all previous IU Mobile services--including athletics scores, class schedules, course content, and bus routes--will be accessible through the new service. The new system will simplify the process that lets users add services to their mobile devices.